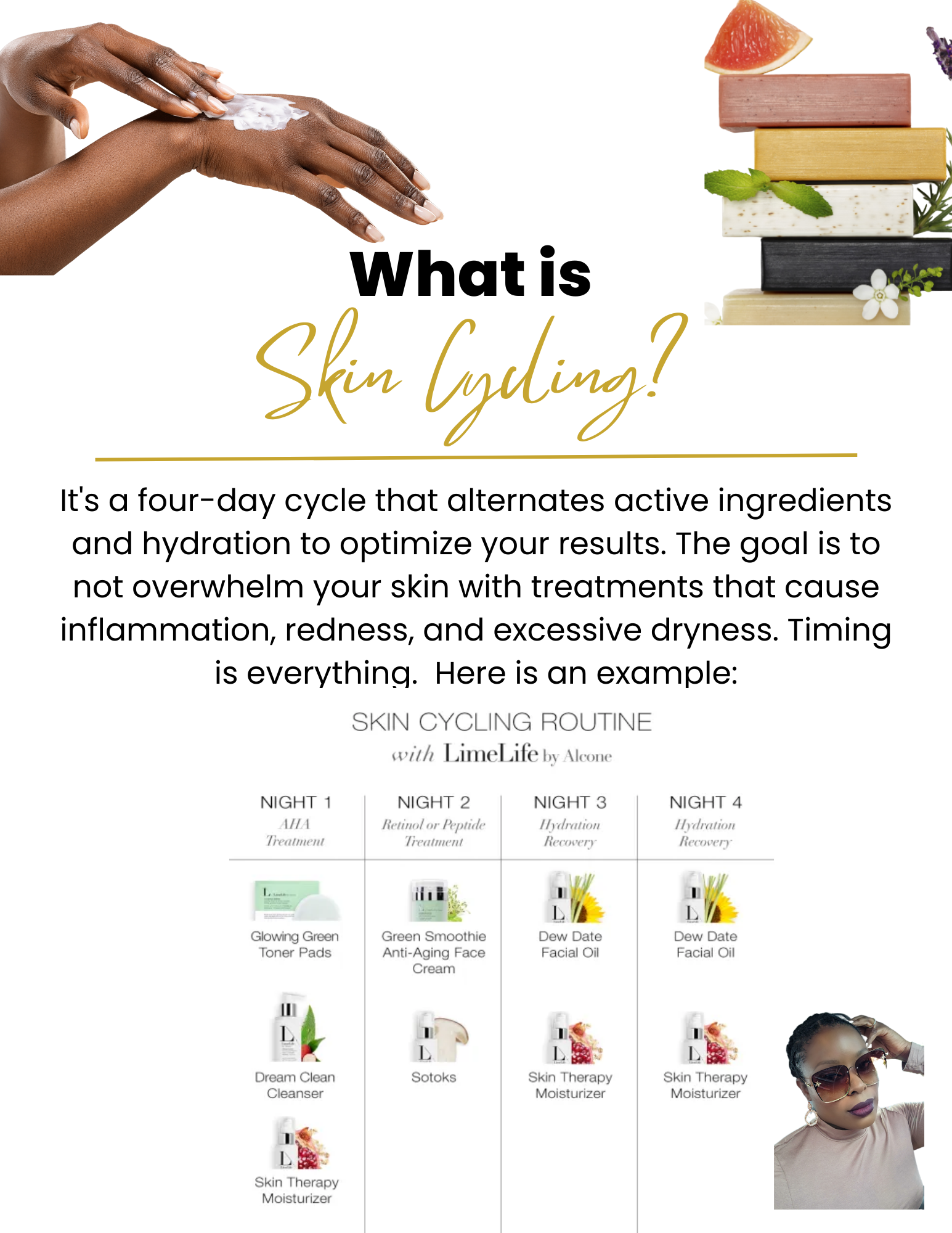 How to Incorporate Skin Cycling Into Your Routine
NIGHT 1: AHA Treatment
Use a gentle chemical exfoliant like LimeLife Glowing Green Exfoliating Toner Pads, which utilize lactic acid to slough off pore-clogging dead skin cells and enhance your skin's natural glow. Your exfoliator should be used in conjunction with a simple routine of mild cleanser and moisturizer. Try LimeLife Dream Clean Cleanser, a soothing formula aloe and soapberry extracts. Follow with LimeLife Skin Therapy Moisturizer containing skin-calming oat and pomegranate sterols.
NIGHT 2: Retinol or Peptide Treatment
Night 1 prepares the skin to help the Night 2 treatments penetrate more effectively. Use a retinol or ingredient that mimics the effects of retinol, like alfalfa extract (try LimeLife Green Smoothie Anti-Aging Face Cream) or peptides (try LimeLife Sotoks Songyi Mushroom Brightening Serum, which harness the power of songyi mushroom to brighten and tighten skin.
NIGHT 3 & 4: Hydration Recovery
On break nights, use products that nourish skin and fortify the skin barrier. Try LimeLife Skin Therapy Moisturizer, which prevents loss of hydration while enriching skin with soothing oat proteins. For added moisture, use a protective oil like LimeLife Dew Date Facial Oil before your moisturizer to strengthen the skin's natural moisture barrier.
Skin Cycling Dos and Don'ts
❌ Don't layer treatments. Using a resurfacing treatment on the same day as an AHA treatment is likely to backfire and cause inflammation.
✔️ Do alternate skin treatments. Use an AHA one night and wait for the next night to use your retinol or retinol alternative.
❌ Don't skip hydration days. Your skin needs more than just a break from treatments. It needs to be nourished.
✔️ Do drench your skin with moisture. It's important to restore the skin's microbiome.
❌ Don't use aggressive ingredients in the morning. Acids and peels can cause photosensitivity. Protect your skin from the sun every day with a broad-spectrum SPF like LimeLife Perfect Sunscreen Broad Spectrum SPF 30.
✔️ Do use treatments before bed. According to Dr. Bowe, who is not affiliated with LimeLife, skin cycling is meant for your nighttime routine.
❌ Don't overtreat sensitive skin. If you have rosacea or other skin issues that increase skin sensitivity, take a break.
✔️ Do take a break. If you experience discomfort, give your skin time to recover and consult with a dermatologist if symptoms persist.