BEN and KRIS
It was a privilege to provide Makeup services for Ben and Kris's wedding. Kris knew what she wanted, how she wanted it to look, and how she wanted to feel on her wedding day. I absolutely loved working with her. She made everything flow so smoothly. Typically, I am the one that makes things run smoothly, but Kris made my job so easy.
I was honored to be one of the featured vendors for Ben and Kris's vintage styled wedding. The venue was at Dragonfly Alpacas, LLC and Photography was by Haley Rae Photography. As a Makeup Artist, the goal is to make the bride's vision come to fruition.  Her wedding colors were maroon, sage, peach, and champagne. I needed to find a makeup look that would compliment the wedding colors she chose.
Kris and I created a timeless look that would go with her wedding theme. We chose a semi-matte lip, and a gold neutral eye with a pop of shine. Her hair and makeup complimented each other so well. We applied her beads to go around her decolletage. The look was coming together before our eyes, and she looked beautiful! To view her look, scroll down..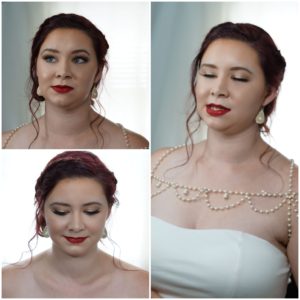 As the wedding day drew closer, we decided to change the look up a little by adding a pink neutral lip versus the red. Although I loved the red, I also like the lip we chose the day of. To see the new lip color, see the next picture below.
It was definitely a pleasure working with Kris. Kris, thank you for allowing me to be apart of your special day. You were a beautiful bride! Once again Congrats to you and your husband and I pray you have many years to come with each other.
My Eastern Shore Wedding wrote a blog on Ben and Kris's wedding. Click on the link to view their blog. My Eastern Shore Wedding