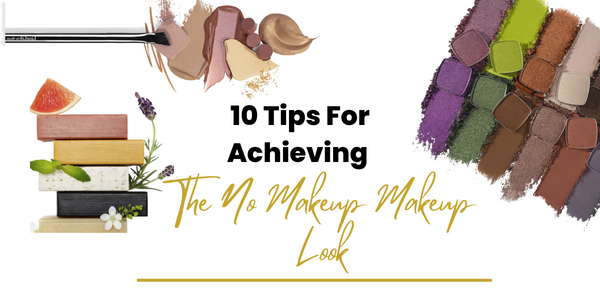 The no-makeup makeup look has become a popular trend, offering a natural, fresh-faced appearance while still enhancing your features. It's all about achieving a flawless complexion, subtle enhancements, and a radiant glow, all while maintaining the illusion of wearing no makeup at all. In this blog post, we'll share valuable tips and techniques to help you master the art of the no-makeup makeup look.
Start with Skincare:
To achieve a natural-looking complexion, it's crucial to prioritize skincare. Ensure your skin is well-hydrated and nourished by following a consistent skincare routine. Cleanse, moisturize, and protect your skin with SPF to create a smooth canvas for your makeup.
Choose a Lightweight Foundation or Tinted Moisturizer:
The key to a no-makeup makeup look is to use a lightweight base product that allows your natural skin to shine through. Opt for a lightweight foundation or a tinted moisturizer that matches your skin tone. Apply a sheer layer with a damp sponge or a brush, focusing on areas that need light coverage.
Conceal Selectively:
For a no-makeup makeup look, only use concealer on areas that require extra coverage. Apply a small amount of concealer to blemishes, redness, or under-eye circles, blending it gently with your fingertips. Use a lightweight, creamy concealer that seamlessly melts into your skin.
Embrace Cream-based Products:
Cream-based products mimic the texture of natural skin, making them ideal for achieving a subtle and seamless finish. Choose cream blushes, bronzers, and highlighters that blend effortlessly into your skin, adding a natural flush and subtle definition.
Enhance Your Brows:
Well-groomed brows frame the face and can make a significant impact on your overall look. Use a brow pencil or powder to fill in any sparse areas with light, feathery strokes. Aim for a natural shape that complements your facial features.
Define Your Lashes Naturally:
Instead of heavy mascara, opt for a lengthening or defining mascara that adds subtle volume without clumping. Wiggle the wand at the roots of your lashes and lightly coat them for a natural, fluttery effect. Consider curling your lashes beforehand for an extra wide-eyed look.
Keep Your Lips Soft and Natural:
Choose a lip balm, tinted lip balm, or sheer lipstick in a shade that closely matches your natural lip color. Apply a light layer to keep your lips moisturized and enhance their natural beauty.
Set Your Makeup Minimally:
To maintain the longevity of your no-makeup makeup look, set it lightly with a translucent powder or a setting spray. Focus on the T-zone or areas prone to oiliness, ensuring a natural finish without excessive mattifying.
Blend, Blend, Blend:
Seamless blending is the key to achieving a natural and undetectable makeup look. Use clean brushes, sponges, or clean fingertips to blend your products thoroughly. Pay attention to any harsh lines or edges, ensuring a smooth transition between products.
Confidence is Key:
The most important aspect of the no-makeup makeup look is to embrace your natural beauty and feel confident in your own skin. Remember that the purpose of this look is to enhance your features subtly, so avoid comparing yourself to heavily made-up images. Embrace and celebrate your unique beauty.
With these tips, you can master the art of the no-makeup makeup look. By focusing on skincare, using lightweight products, and embracing a natural approach, you can achieve a fresh, radiant, and effortlessly beautiful appearance. Remember, the goal is to enhance, not mask, your natural features
If you are not sure what color foundation shade to get, try our foundation quiz and get matched HERE